Tours théâtralisés

par le chemin
des fresques

Murales Sherbrooke

Une galerie d'art
à ciel ouvert!

Terminus et populus - EN
Terminus et populus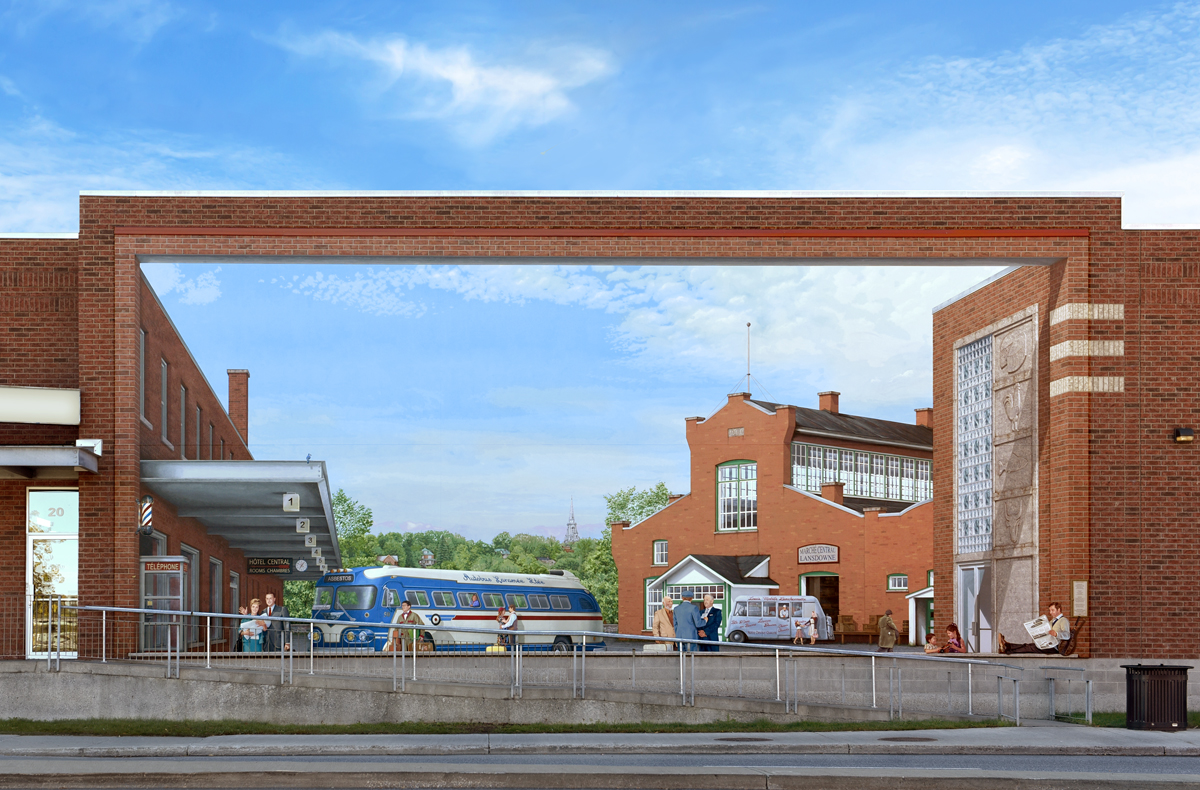 This mural brings attention to the Lansdowne market, where people from all over the area could sell and buy regional products, and the former Sherbrooke bus station, where thousands of people from various backgrounds stepped off at Sherbrooke to visit the region or found a family and begin a new life.
The mural provides viewers from all walks of life with another missing piece of our history, revealing a different aspect of Sherbrooke's collective memory.
In the foreground are the station's arrivals and departures. Imagine sitting at the bus station in the 1960s, suddenly hearing the announcement, "Asbestos, Thedford-Mines, Victoriaville"! How many times did people hear these destinations announced while waiting for someone to arrive, or enthusiastically looking forward to their own journey? There are so many untold stories… So many newcomers to Sherbrooke looking forward to starting up a new life in this place that has welcomed people for so long; so many people coming to visit family, and young people in search of adventure, experience and knowledge… these many untold stories are the heart and soul of this mural.
Dimensions :
1,503 square feet
Year created :
2018
the mural in more details...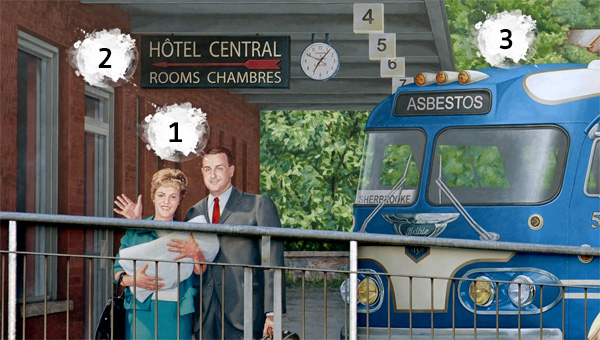 1
Lloyd Scheib et Paulette Couture
Among others, Sherbrookeer Lloyd Scheib (1938–2014) and Windsor-born Paulette Couture (1933) were married in Sherbrooke (1961–2012). They raised two daughters: Lynda-Gayle born in 1964 and Lysa-Gyna, in 1972.

Nicolas Scheib (1889–1975), Lloyd's father, was born in Beirut, Lebanon, the son of a tailor. He fled political strife brought about by the Ottoman Empire to come to Sherbrooke in 1916. He married Odette Rabbath in 1930. The couple had four boys, all born in Sherbrooke: Vitol Joseph, Renaud, Lloyd and Donald Nicholas. Scheib opened a men's and boys' clothing store at 83 King St. West, which served patrons until December of 1989. The building still stands today, housing the restaurant-bar Le Tapageur. Nicolas Scheib retired in 1960, handing his business down to his sons Renaud and Lloyd. Lloyd, seen in the mural, worked for the company from 1955–1963 before managing regional newspapers and radio stations and pursuing various other enterprises until his retirement in 2011. Renaud continued running the business from 1963–1989, and had a shoe store at the Carrefour de l'Estrie from 1985 until 1996, when he retired.
L'Hôtel Central était situé au deuxième étage du terminus, et l'horloge original, de fabrication Skinner & Nadeau, existe toujours.
La Compagnie Flxible a été fondée en 1912 et fermée en 1996, elle construisait des side-cars de moto avec une connexion flexible à la moto. Le nom Flxible a été intentionnellement mal orthographié en 1919 pour protéger le nom par le droit d'auteur. Le premier autobus Flxible, a été livré en 1924 de l'usine de Loudonville, Ohio. Flxible fut l'un des plus grands fabricants de bus de transit en Amérique du Nord.

Le modèle d'autobus illustré dans la murale est un Flxible Clipper 1947 avec un moteur Buick Roadmaster de 320 pouces cubes. Capacité de 29 passagers. Ce type de autobus fut très populaire dans les transports provinciaux du Québec.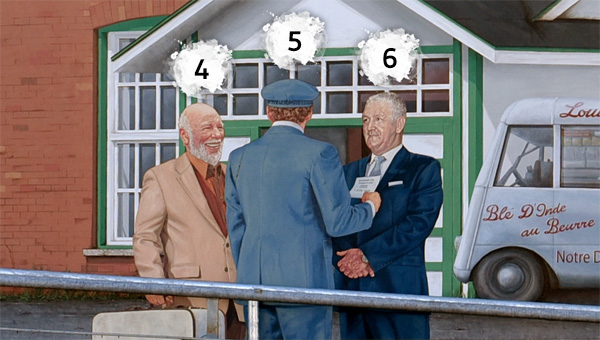 Jean-Pierre Kesteman was born in Brussels (1939–2016). He studied at Université de Louvain, earning a bachelor's degree in archaeology and ancient history (1961), then a B.A.

In 1977 he completed a master's degree in history at Université de Sherbrooke, and in 1985, a doctorate in history at Université du Québec à Montréal. A scholar in the humanities, he became professor emeritus at Université de Sherbrooke in 2005.

He is likely the best-known historian in the Sherbrooke area, given that he made it his mission to showcase the history of his adopted city. He came to Sherbrooke in 1968, and taught at Université de Sherbrooke for 35 years, from 1968–2003. He nevertheless continued teaching at the Université du Troisième âge (UTA) and at the history department. Among other things, he was Vice-President Academic of the department, of which he was a leading figure during the 1970s and 1980s. From 1986–1988, he was head of the social sciences and humanities department, then from 1989–1993, assistant to the vice-president academic, and finally from 1993–1998, vice-president academic himself at Université de Sherbrooke.

Jean-Pierre Kesteman will forever be remembered as the teller of our history, beginning with his Guide historique du Vieux-Sherbrooke, published in 1985. He went on to churn out numerous books and lectures on the towns and cities of the Eastern townships, including Fitch Bay, Bolton Centre, Way's Mills, Island Brook, Stukely-Sud, Huntingville, Melbourne and Waterville. Imagine the passion and patience it must have taken to comb through, photograph, read, retrace, analyze and convey the great wealth of our heritage… What an extraordinary gift he has given us!

This great man wrote the history of Sherbrooke and our region with inimitable passion and meticulous detail. A generous soul, he has provided a treasure trove for the historical content of Sherbrooke's murals. Generations to come will continue to be inspired by his valuable writing and research.

Following are a few awards that Kesteman received: 1994 La Tribune Award, 2001 Alphonse-Desjardins Award, 2002 Mérite estrien, 2003 Juge-Lemay literary award, 2005 Professor emeritus at Université de Sherbrooke, 2008 Order of the Crown of Belgium.
Our faceless bus driver, seen from behind, symbolizes the many drivers who have held this occupation, driving around familiar streets, cities and even the globe, sometimes as pensive, friendly people that travellers can confide in, or as anonymous guides entrusted to bring us from one place to another, to our destination… To our destiny. (Extra Hugo Fournier.)
Alphonse Laramée (1908–1978) was born in East Angus and earned his business degree from East Angus college. In 1930, he married Annette Duquet in Detroit, Michigan. The couple had a son, Yvan.

In 1938, he started up a bus transportation company that ran a route between Sherbrooke and Drummondville, then other cities of Estrie. He was director of the Quebec bus owners' association from 1943–1958, then president of the organization from 1958–1959 before becoming honorary president. From 1952–1978, he was the head of Sherbrooke's municipal bus services, later renamed the Corporation métropolitaine de transport Sherbrooke.

In 1954, he had a bus garage built on Des Grandes-Fourches St. South, near the Joffre Bridge; then, in 1955, Sherbrooke's intercity bus station on King St. West, and, in 1960, the apartments on De la Châtelaine St. The third generation of the Laramée family is still involved in downtown development efforts to this day.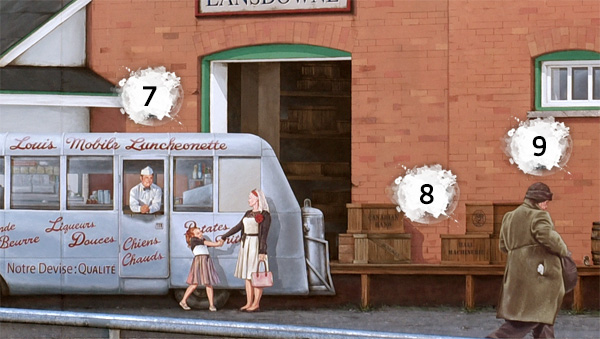 "Mom! I want fries!" (Extras Anna-Rose Tremblay and Geneviève Gauthier.)

Everyone knows the Louis restaurants in Sherbrooke, which are owned by Yvon Ellison. Many people still remember the small French fry shack literally attached to the Aylmer bridge (1955–1989). But do you know where the name Louis comes from?

The restaurant, a hallmark of Sherbrooke that competes with the major restaurant chains, is named after its founder Louis Balawyder (1918–2002). Balawyder was born in 1935 on a farm in Rama, Saskatchewan. He left his hometown at 17 to work in the mines, but left after falling in love with his future wife Olga Skwarka in Montreal. They had four children: Louisa, Diana, Carol Ann and Donny.

Mr. Balawyder came to Sherbrooke in 1943 and opened his own mobile business, a "Louis Mobile" which he drove from his home to the Lansdowne market every day before at last installing the truck on the Aylmer Bridge in 1949. He had three Louis Luncheonette fast food restaurants. His fries were considered the best in town, and the Louis quality tradition has lived on.

Since 1969, the Louis Luncheonette restaurants have been run by three different generations. Yvon Ellison (deceased) worked as a barber at the bus station before buying the restaurant. Today, his son Pierre Ellison and his children continue to uphold the Louis tradition of fast, quality service across all three restaurants.
Elles évoquent la période industrielle et métallurgique du quartier durant plusieurs décennies.

1914-1918 : Canadian Rand,transformée en usine d'armement.
1900 : Jenckes,fonderie et machinerie lourde pour mines.
1896 : la boisson gazeuse Bulls Head.
1930 : Hall Machinerie,usine de fabrication de poêles et fournaises.
Gérard, i.e., Gérald Foucault (1924–2008), is remembered by an entire generation. He was a colourful and innocuous part of the downtown landscape in Sherbrooke. Every day, he could be found walking around the downtown wearing his big coat, in which he carried countless objects and newspapers.

In the 1970s and 1980s in particular, he could be seen all over the downtown, following a regular route and schedule that included shops, garages, convenience stores and certain fortunate restaurants, which were happy to serve him free meals, as a tradition. He would spend some time listening to and/or repeating a monologue of daily news, at lightning speed.

Each day, Gérard would make sure to greet the police officer stationed at the traffic tower, commonly called the poubelle or trash can, at the corner of King St. West and Grandes-Fourches. The next morning, he would make the same rounds all over again.

Gérard was a good person, but unfortunately some people treated him with contempt or disrespect. But for most of us, he was our Gérard.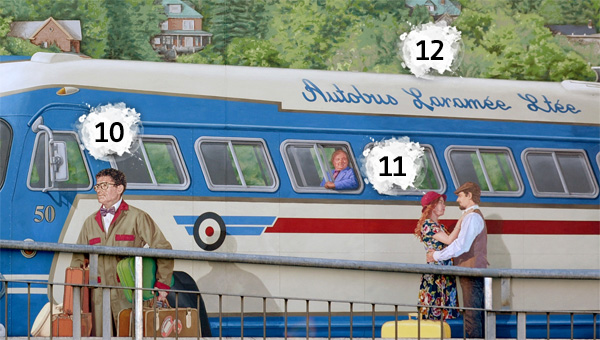 Yvan Grégoire (1942–2006), a native of Cookshire, is deserving of recognition for his exemplary courage and determination. In spite of being born deaf and mute, he earned a living working at the Sherbrooke bus station, even though he held no official position there. He worked for the station from its construction in 1958. No one had more experience at the station; he knew its every nook and cranny. He had to stop working in 2004 for health reasons.

Yvan Grégoire, irreverently nicknamed Le pot (someone hard of hearing), handled luggage and other items that needed to be loaded on and off the buses. He also cleaned the huge buses' windshields. His only salary was in the form of tips left to him by drivers and customers. A bus company also paid him a commission for each windshield and floor he cleaned during the week.

In spite of his disability, he was no doormat; drivers who forgot to give him his modest tip could be sure that they would have no help unloading luggage and other items from their vehicles when they came back to Sherbrooke.

This man made a place for himself at the station, where he felt happy and at home. He felt useful and understood, given that all the employees knew how to communicate with him. The only sound heard from his lips was laughter, and he loved to laugh.
11
Arrivals and Departures
How many stories of love, loss, separation, joy and reunion could the bus station's walls tell us, if only they could speak?

A middle-aged man sitting by the bus window tenderly recalling memories of his younger days as he watches this young couple preparing to say goodbye… He can imagine how difficult it is for them to part; perhaps the young lady is leaving behind Sherbrooke with her friends, family and lover to pursue her studies… The bus station is never a destination in itself, just a stop along the journey of life. (Extras Jean Chenay, Gabrielle Thériault and Julien Ouellet.)
En 1938, Alphonse Laramée débute l'exploitation d'une compagnie de transport par autobus, qui fait le circuit entre Sherbrooke et Drummondville et, par la suite, entre d'autres villes de l'Estrie.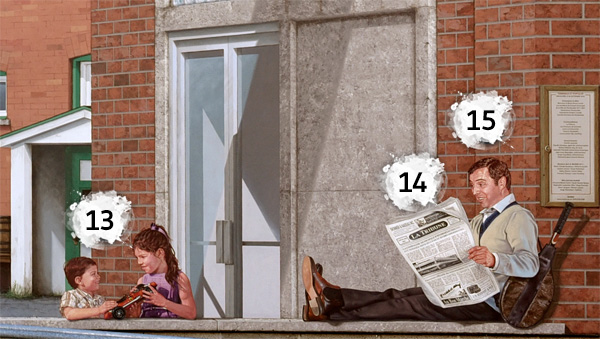 Childhood in downtown Sherbrooke, where everyone spent their weekends with family, at the movie theatre or in a restaurant. Shopping was popular too, whether at Au Bon Marché or children's favourite toy store Boulanger; kids loved to admire the miniature cars on the eight-track circuit in the bus station basement. (Extras Olivia and Gaël Brenès.)
Front Page of La Tribune :

Municipal hydroelectric company officially named Hydro-Sherbrooke.
Official opening of the Dépôt St. parking lot.
Advertisements :

Skinner & Nadeau Inc. : 82 Wellington St. North. The Skinner jewelry store has existed since 1859, and has been managed by three different generations. In 1954 it merged with Nadeau et fils jewellers, then located on King St. West.
André Couture, notary : 51 King St. West, Edifice Central. Mr. Couture is a good illustration of the neighbourhood's insurance, accounting and architecture professionals.
Au Bon Marché : 45 King St. West. Au Bon Marché was opened by Mortimer Vineberg, the store owner and manager, together with his children Ari and Adèle. After Au Bon Marché closed, the building was sold to Roger Labonté in 1991, and renovated.
N. Boisvert & fils : 5 King St. West. In 1904, Jean-Napoléon Boisvert opened a leather goods store that also sold travel items. The building was taken down at the same time as the Aylmer Bridge, in 1989.
CKTS-AM 900 : An affiliate of radio-Canada since 1946, sold to Telemedia at the end of the 1960s.
Claude Métras, an arts and culture patron, promoter and enthusiast well known to Sherbrookers.

Seen here reading the daily newspaper La Tribune, with a tennis racket on his shoulder, always ready for a new game.

In 1955, Métras won the Sherbrooke tennis championship, at the same time as Guy Durocher became Sherbrooke's first national junior champion and Robert Bédard once more won Canada senior champion. To mark the occasion, Bédard was pleased to gather together a few members of the tennis association, including Métras, to make the sport better known to young people in several parks of the city.

He was also a certified appraiser, arbitrator and mediator as well as a public relations specialist for Raymond Chabot Grant Thornton. Born and raised in Sherbrooke's former eastern neighbourhood, he also served as the Fleurimont representative on the city's place-names committee. He was additionally a member of the Sherbrooke 2002 Bicentennial Corporation.

From 2003–2006, he was president of the Sherbrooke historical Society; history has always been an important and ever-present part of his life. "History provides the roots for all human endeavour." He is an accomplished volunteer, having played a key role in organizing the Concerts de la Cité and assisted the Orchestre symphonique de Sherbrooke (OSS) as well as the Sherbrooke and Ottawa nature and science museums.

He won the Grand Estrien award in 2002, and the Quebec Lieutenant Governor's medal in 2018 in recognition of his dedication to the business, cultural, arts and humanitarian communities.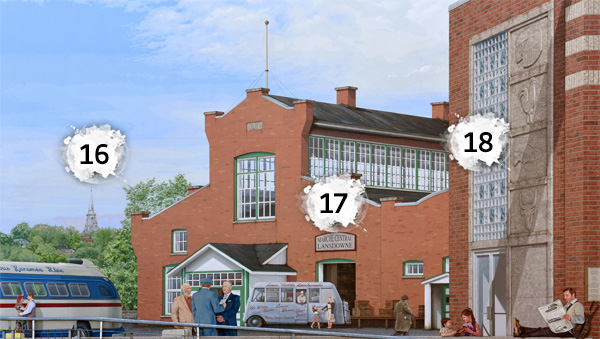 16
Église St-Jean Baptiste
La paroisse fut nommée par Mgr Antoine Racine, premier évêque de Sherbrooke, en souvenir de la paroisse de Saint-Jean-Baptiste-de-Québec, qu'il avait desservi durant 21 ans. La première église est construite en 1884 et c'est en 1908 que l'église actuelle fut construite, surnommée la Cathédrale de l'Est.
17
The Lansdowne market and the public market
Lansdowne St. in 1893, renamed Grandes Fourches St. in 1935. Sherbrooke has a long history of public markets. The first, from 1837–1866, sprung up at the corner of Belvédère and Marquette Streets, before relocating to Market Square (1859–1900), today known as the Carré Strathcona facing the current town hall (previously the courthouse). It then became the Lansdowne market, inaugurated on June 16th, 1900, closed in 1955 to make way for the Sherbrooke municipal market (1955–2002) and then the bus station.
La fermeture du Marché Lansdowne en 1955, laissa place au Marché Public municipal de Sherbrooke 1955-2002 et au terminus de Sherbrooke.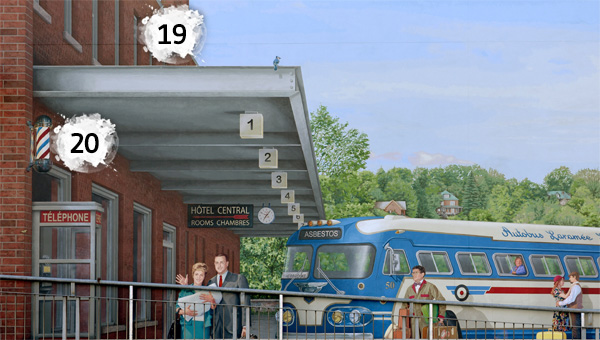 Sherbrooke's first bus station in 1939 was located by the current Maison du Cinéma. By necessity, and to modernize and enhance the city's much-appreciated public transportation services, a new and very welcome "modern" station opened on September 4th, 1958.
Modern hotel with bath, at $4 per night.
Air conditioning
Automatic heating system
Fireproof building
On-site restaurant.
On-site pharmacy.
On-site barber.
On-site shoeshiner.
On-site photo booth.
On-site game room in the basement.
The station was destroyed, making way for the modern-day building that houses the SAQ, in 2002.
L'origine du poteau de barbier rouge-blanc-bleu, est un leg qui date du Moyen Âge. À cette époque, les barbiers devaient parfois utiliser leurs instruments à d'autres fins que la coupe des cheveux ou la taille de la barbe, ils pratiquaient de petites opérations de chirurgie et arrachaient des dents. L'enseigne tricolore symbolise le bleu pour les veines, le blanc pour les bandages utilisés et enroulés sur un bâton pour les faire sécher et le rouge pour le sang. Dans cette murale, on est loin de cette période un peu lugubre, il symbolise la présence du "barbershop", du salon de barbier dans le terminus, tenu dans cette période par Yvon Ellyson, Pierre-Luc Dubreuil et Real Bonneville.