Coeur, culture et pédagogie - EN
Heart, Culture and Pedagogy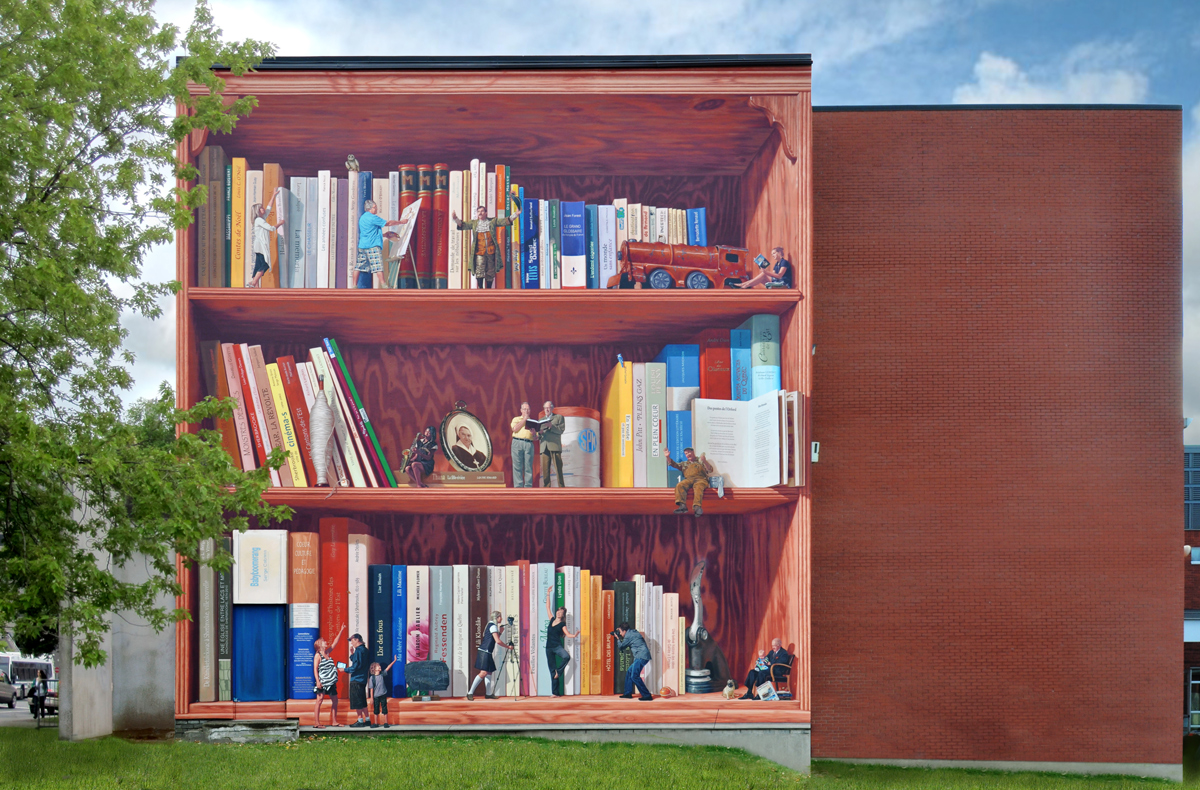 The mural Heart, Culture and Pedagogy harks back to the trompe-l'œil style of 17th century master painters such as Cornelis Norbertus Gijsbrechts (1630–1675) and Giuseppe Maria Crespi (1665–1747). The mural is a nod to the history of this neighbourhood vibrant with culture, literature and knowledge. Several of the objects in the mural evoke the local Lomas, Paton and Kayser factories.
The upper stories of the Collège Sacré-Cœur building have been replaced with the levels of a bookcase housing tiny characters, who are seen standing or sitting against a backdrop of giant books. The mural is an allegory of Sherbrooke as a cradle of knowledge, and stands as a metaphor of our literary world, representing more than 100 authors from the Eastern Townships.
Dimensions :
39 by 42 feet
Year created :
2011
La liste des auteurs et auteures a été tirée, en partie, du Mouvement littéraire des Cantons-de-l'Est de 1925 à 1950, de l'Association des auteurs et auteures des Cantons-de-l'Est (1977), de la Bibliothèque Éva-Senécal (1991), du Grand prix de littérature et du Répertoire des écrivains francophones des Cantons-de-l'Est. Personnes ressources du monde littéraire : M. Antoine Sirois, Mme Sylvie L. Bergeron et M. Bernard Chaput. Liste des 113 auteurs et des 106 titres illustrés… (De gauche à droite en commençant par le haut)
1
Première tablette située en haut de la bibliothèque
Bernard Genest, UNE SAISON AU BORD DE L'EAU;
Monique Nadeau-Saumier, UN ESPACE ET UN LIEU DE CULTURE LE ART BUILDING; DE SHERBROOKE 1887-1927;
France Boisvert, MASSAWIPPI;
Louis C. O'Neill, CONTES DE NOËL;
Jean-Hermann Guay, AVANT, PENDANT ET APRÈS LE BOOM;
Huguette O'Neil, YVETTE ROUSSEAU LA RÉUSSITE D'UNE VIE;
Myriam Beaudoin, HADASSA;
Louise Dupré, LA MEMORIA;
Claire Vigneault et Bruce Roberts, LE CHASSEUR DE LOUP-MARINS;
Patrick Nicol, LES ANNÉES CONFUSES;
Gilles Marcotte, LA LITTÉRATURE EST INUTILE;
Yves Gosselin, LA MORT D'ARTHUR RIMBAUD;
Yves Boisvert (sans titre);
Maurice O'Bready (sans titre);
Michel Garneau, LE PHÉNIX DE NEIGE;
U.R.I.R.S, L'OMBRE EN LUMIÈRE, LA PERSPECTIVE, LA COMPOSITION (Fictifs);
Jovette Marchessault, DEMANDE DE TRAVAIL SUR LES NÉBULEUSES;
Jean Civil, ENTRE DEUX PAYS;
Ian Tait, DANCING THE SPIRAL;
G. Jones, UNDER THE THUNDER THE FLOWERS LIGHT UP THE EARTH;
André Marquis (sans titre);
Hélène Laperrière, PROMENADES ESTRIENNES;
Oscar Masse, MENA'SEN;
Marie Page, DRÔLE D'ÉCOLE;
Northrop Frye, ANATOMY OF CRITICISM;
Ronald Sutherland, HOW ELVIS SAVED QUEBEC;
July Giguère, ROUGE PRESQUE NOIRE;
Daniel Roy, RÊVERIE;
Louis Hamelin, LA CONSTELLATION DU LYNX;
Jean Forest, LE GRAND GLOSSAIRE DU FRANÇAIS DE FRANCE;
Marie-Paule Villeneuve, L'ENFANT CIGARIER;
Chantale Proulx, UN MONDE SANS ENFANCE;
Livres fictifs servant de support de visibilité aux commanditaires : SHERBROOKE, DESTINATION SHERBROOKE, DE ARMOND, BHS COMPOSITES, INORTECH;
François Landry (sans titre);
Christine Hudon (sans titre);
Luc Larochelle (sans titre) ;
Léon Robichaud (sans titre);
Bernadette Renaud (sans titre);
Jean-Pierre Kesterman, LES ÉCOSSAIS DE LANGUE GAÉLIQUE DES CANTONS-DE-L'EST;
Jeanne Desrochers (sans titre);
Kiev Renaud (sans titre).
2
Seconde tablette située au centre de la bibliothèque
Françoise Gaudet-Smet (sans titre);
Gilbert Boulanger (sans titre);
Marie-Danielle Croteau (sans titre);
Sylvie Massicotte (sans titre);
Sophie-Julie Painchaud (sans titre);
Jean-Pierre Kesteman, HISTOIRE DE SHERBROOKE TOME 1;
Danielle Goyette, MONSTRES DES LACS;
Louis-Philippe Demers, SHERBROOKE;
Robert Yergeau, ART, ARGENT, ARRANGEMENT LE MÉCÉNAT D'ÉTAT;
Jacques Julien, BIG BEAR, LA RÉVOLTE;
Antoine Sirois, Serge Malouin, SHERBROOKE VILLE DE CINÉMAS, 1896-2002;
Marie-Josée Auclair, Paul Laramée, LES CANTONS-DE-L'EST;
Richard Langlois (fictif);
Jean-François Nadeau, LA PALME, LA CARICATURE ET AUTRES SUJETS SÉRIEUX;
André Lachance, VIVRE AIMER ET MOURIR EN NOUVELLE-FRANCE;
Daniel Shelton, BEN, À DEUX C'EST MIEUX;
(DELAF) Marc De LaFontaine, (DUBUC) Maryse Dubuc, LES NOMBRILS, POUR QUI TU TE PRENDS?;
Benoit Laverdière, Daniel Houde, LES CLOUVIS;
Louise Simard, THANA, LA FILLE-RIVIÈRE;
Éric Gauthier, FER BLANC, CONTES DE LA LUNE;
Michel Gosselin, EN ROUTE ET PAS DE SENTIMENT;
John Pitt, PLEINS GAZ;
Louise Penny, EN PLEIN COEUR;
Jacques Michon, HISTOIRE DE L'ÉDITION LITTÉRAIRE AU QUÉBEC AU XXe SIÈCLE;
André Dion, L'ÂME DES OISEAUX;
André Croteau, BEAUTÉS SAUVAGES DU QUÉBEC;
Stéphane Lemire, Richard Séguin, Gilles Dallaire, LES CHEMINS DES CANTONS-DE-L'EST.
3
Troisième tablette située au bas de la bibliothèque
Sylvie L. Bergeron, Arlette Vittecoq, DE KTINÉKETOLEKWAC À SHERBROOKE, VILLE NOUVELLE;
Paul E. Paré, UNE ÉGLISE ENTRE LACS ET MONTAGNES. ARCHIDIOCÈSE DE SHERBROOKE, 1874-2010;
Serge Cabana, BABYBOOMERANG;
Livre support aux remerciements :CŒUR, CULTURE ET PÉDAGOGIE (titre de la murale);
Guy Laperrière, BIBLIOGRAPHIE D'HISTOIRE DES CANTONS-DE-L'EST;
Andrée Désilets, LA VIE MUSICALE À SHERBROOKE, 1820-1989;
Lise Blouin, L'OR DES FOUS;
Lili Maxime, MA CHÈRE LOUISIANE;
Michèle Plomer, LE JARDIN SABLIER;
Françoise Hamel-Beaudoin, REGINALD AUBREY FESSENDEN;
Hélène Cajolet-Laganière, Pierre Martel, LA QUALITÉ DE LA LANGUE AU QUÉBEC;
Mylène Gilbert Dumas, LILI KLONDIKE;
Ralph Gustafson, FLIGHT INTO DARKNESS;
Patrick Quintal, DRAGON BLEU, DRAGON JAUNE;
Hélène Boissé, ET AUTRES INFIDÉLITÉS;
Micheline Dumont, LE FÉMINISME QUÉBÉCOIS RACONTÉ À CAMILLE;
Louis-Philippe Robidoux, FEUILLES VOLANTES;
Ginette Bureau, MONA;
Lynda Dion (sans titre);
Joseph Bonenfant, Passions du poétique;
Rémy Tremblay, L'Aventure française ;
Pierre Hébert, Yves Lever, Kenneth Landry, Dictionnaire de la censure au Québec Littérature et cinéma;
Alfred DesRochers, À l'Ombre de l'Orford;
Christian Lahaie, Hôtel des brumes;
André Jacques, Les Aventures d'Alexandre Jobin, LES LIONS RAMPANTS;
Robert Matteau, Un Cri de loin;
Éva Senécal, Dans les ombres;
Daniel Gagnon, King Wellington;
Hugues Corriveau, Parc univers;
Claude Boucher, Une Brève Histoire des idées de Galilée à Einstein;
Clémence Desrochers, Le Monde aime mieux…;
David Goudreault, De plaies et baume;
Hervé Philippe, CARICATURES ANNÉE 2011;
Élisabeth Tremblay, filles de lune;
Jean Maransart, Voix hors-champ;
Bruno Laliberté, LES JOURNÉES GRANDIOSES DE LORD SYAN GY;
John Derek Booth (sans titre).
the mural in more detail...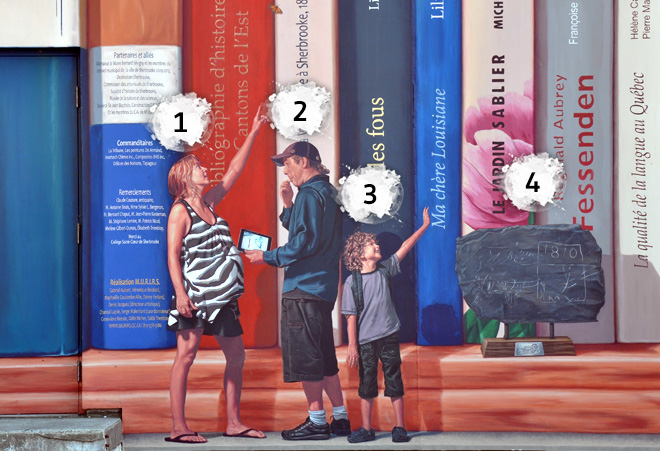 Special education worker for the Commission scolaire de la Région-de-Sherbrooke, or Sherbrooke school board. Became the proud mother of a beautiful little girl on September 2nd, 2011.
The "dad with the iPad" is a street worker for the Coalition sherbrookoise pour le travail de rue.
A charming 6-year-old boy.
In the fall of 1963, Jean-Marc and Philippe Forest came across an assemblage of petroglyphs in a rocky outcropping of the Saint-François River in Bromptonville.

After being retrieved from the river in 1965, the stones were brought to the Bromptonville town hall. In November of 1976, the City of Bromptonville turned the stones over to the former Sherbrooke Seminary Museum.

The glyphs are made up of various markings (initials, names, dates, anthropomorphic-zoomorphic motifs, etc.) and abstract symbols. The provenance of the petroglyphs is likely mixed, coming from both Native and other communities. They are thought to date from between 1740 and 1815, although this is only an estimate. Archaeologists believe that the petroglyphs were left behind by travellers passing through the area.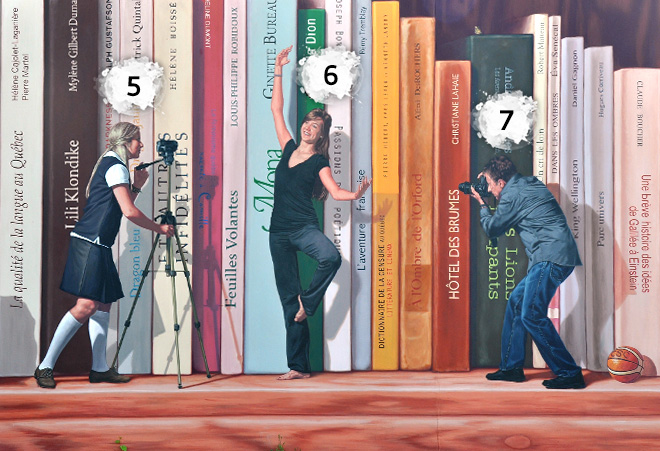 Member of the photo club at the Collège du Sacré-Coeur. The recipient of the COOP award in secondary grade three, and head of the marketing committee for the student co-op. She was active in several different sports in addition to being an alpine skiing instructor at Mount Orford.
Member of the Collège du Sacré-Coeur dance group. After-school dance instructor for secondary two students, involved in the student parliament and the student co-op. Won the 2011 FEEP award for her positive leadership.
A professional photographer. Lemire started off as a newspaper photographer before striking out on his own. His work ranges from photo reporting for magazines to fashion photography and studio portraits. He has taken part in numerous exhibits on a wide range of themes. He published five books between 2007 and 2010.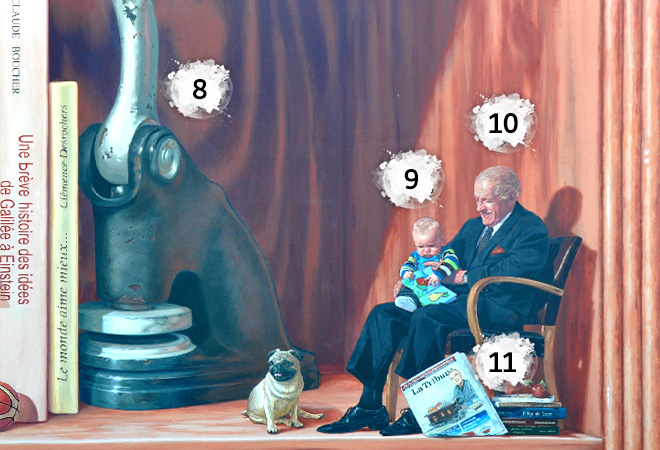 8
Institutional and Legal Sector
The district's first courthouse and prison (1823);
The Plateau Marquette which became an institutional sector starting in 1825;
The modern-day courthouse (1987).
Five years old. The son of mural artist Raphaëlle Coulombe-Allie and photographer Patrick Couture.
A man known for his passion who worked as a securities advisor for many years. He did a number of sports and was an active sports coach. He has been retired for several years now.
The Eastern Townships' only and greatest French-language daily newspaper, an unwavering supporter of Sherbrooke's murals, is here represented by the Prix La Tribune de la Société d'histoire de Sherbrooke. In 2010, this award went to John Derek Booth, a specialist on the physical geography and history of the Eastern Townships and southern Quebec. Mr. Booth published many books and belonged to numerous scholarly associations and societies.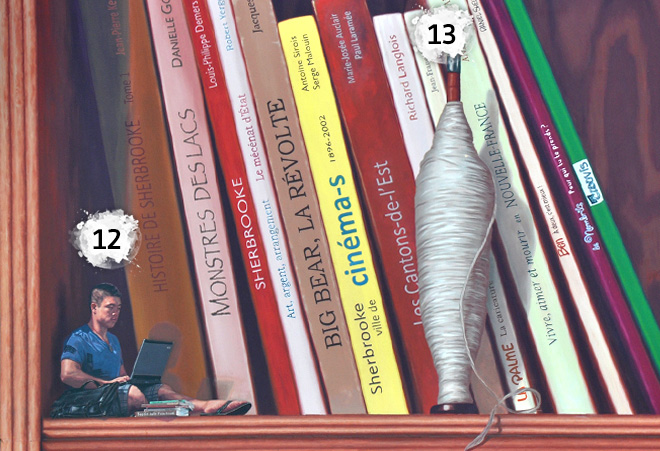 Native of Vancouver. Yan came to Sherbrooke to take part in the Université de Sherbrooke PAIEC program and completed a French immersion. He also earned a merit scholarship during his studies at the University of British Colombia.
13
The Local Industrial Sector (textile)
Lomas woollen mill (1842);
Paton woollen mill (1867-1978);
Kayser silk mill (1915);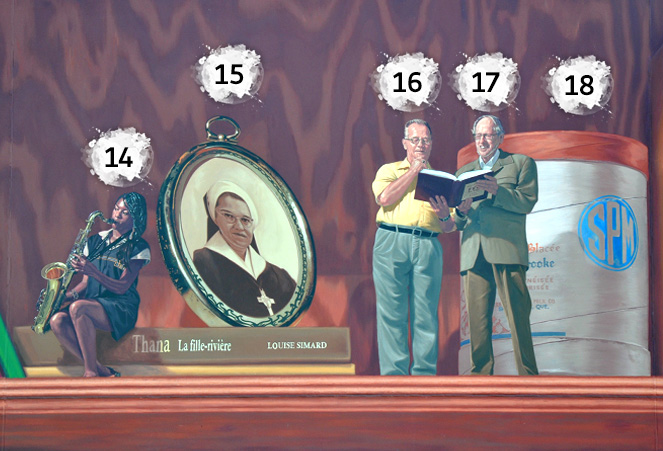 Member of the Collège du Sacré-Coeur concert band for three years; played an active part in its yearly concerts. Her honours included "Best Spirit" in basketball and "Newcomer of the Year" in athletics.
15
Sister Priscilla Lareau
A Daughter of Charity of the Sacred Heart of Jesus, Sister Priscilla Lareau founded the Collège du Sacré-Cœur in 1945 on Parc Street, in the eastern part of the city. She taught at the school for a number of years, before it was turned over to the government of Quebec and became the site of the modern-day CEGEP. Working with a parent group, she founded the Coopérative du Collège du Sacré-Coeur de la rue Belvédère Nord, which she led up until 1976. She went on to teach French at the school until June of 1990, after which she retired.
Professor and pastoral worker at the Mitchell and Du Phare schools, as well as the Louis-Saint-Laurent school in East Angus. Sirois also worked as a regional development officer in the leisure sector for the Conseil régional des loisirs de l'Estrie, and in the cultural sector for the Conseil de la culture de l'Estrie (CCE). The CCE awarded him a medal as Travailleur émérite du développement régional en culture de l'Estrie in 2010.
Priest, teacher and professor emeritus at Université de Sherbrooke. Sirois held a doctorate in comparative literature from Université de Paris-Sorbonne, was a member of the Royal Society of Canada, and published a number of books. He was also the recipient of the Gabrielle-Roy Award (1987) and the La Tribune de la Société d'histoire de Sherbrooke award.
18
The Local Industrial Sector
The Sherbrooke Pure Milk Co. Ltd dairy farm, previously located at 209 Belvédère St. North (1930–1976).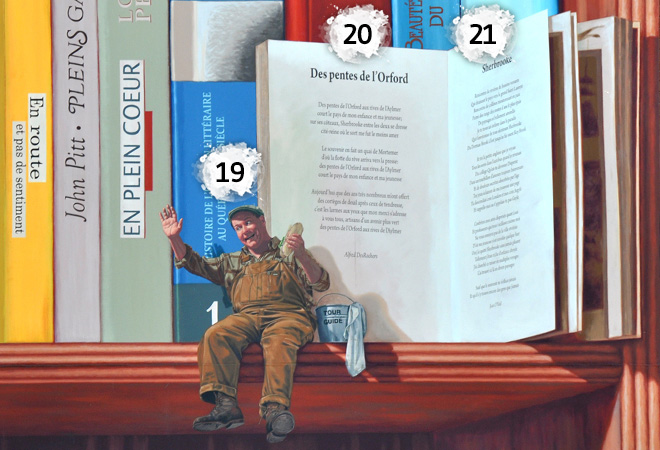 Actor, seen here playing Francis the window cleaner. Also known for his role as the celebrated Senator Howard in the "Tour de la cité, Par le chemin des fresques" theatrical tour from Les Productions Traces et Souvenances. Other talents include singing-songwriting and radio hosting for the national network Radio Ville-Marie. He won the prize for best radio interview in 2008.
20
Des pentes de l'Orford
Poem by Alfred DesRochers.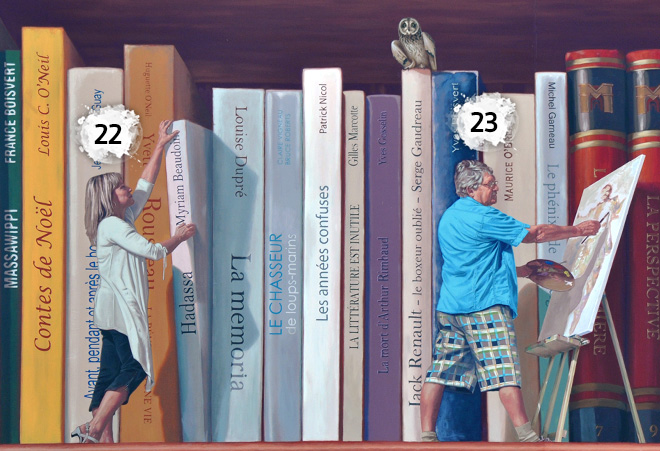 Science teacher and vice-principal at Collège du Sacré-Coeur. A lover of literature, travel and creative experiences that enable her to share her passion with her peers, students and friends.
Born in St-Gérard and studied art in Quebec City. Lussier taught visual arts at the Montcalm and St-Francois schools for 37 years, sparking the creativity of many of our currently active artists. He retired in 1997.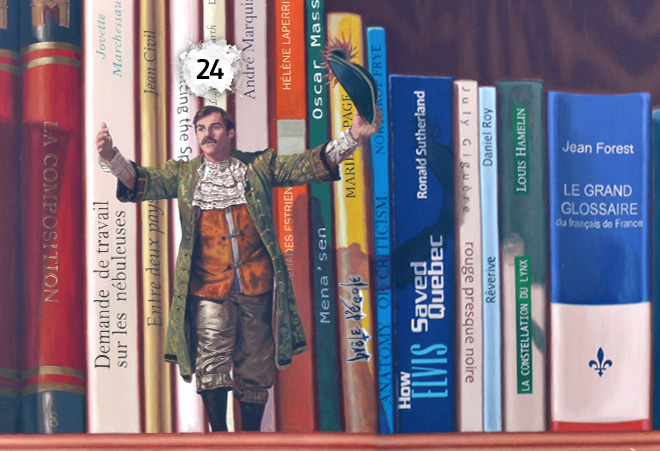 A native of Magog. Christiaenssens was a man of the theatre who rubbed shoulders with many actors including Gilles Latulippe. His numerous theatre and TV roles include the well-known "Bedeau Bronsard" in the series "Entre chien et loup." He also made many appearances in advertising. Serge Christiaenssens passed away in January of 2010.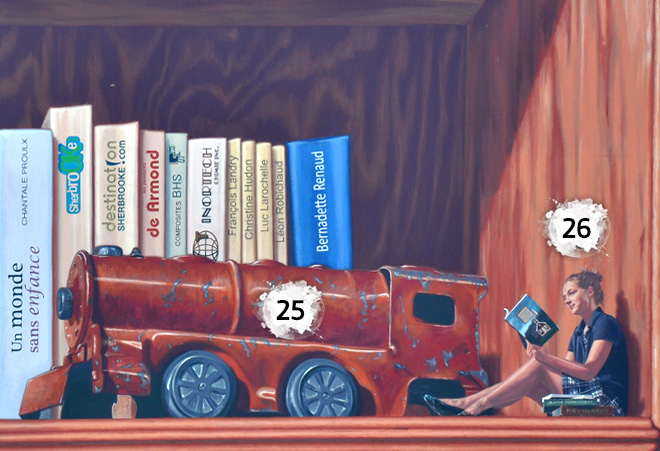 25
The Local Industrial Sector
C.P. Railways, which was located on Belvédère St. North (1890).
26
Sophianne Poulin-Houle
Elected class president every year of her studies at the Collège du Sacré-Cœur. Earned several COOP awards and was president of the board for the student cafe, as well as assistant basketball coach for secondary one students.